Zinc Sulfate Tablet contains zinc which is a mineral. It is involve in a number of body enzyme functions. It is important for wound healing and for the senses of taste and smell.
However, if it is take in large quantities, it can lead to toxicity. Because of this, zinc supplements should only be take by people with conditions that cause a loss of zinc from the body, or where there is good evidence that zinc deficiency exists. Such conditions include large skin burns, following an injury, and in some metabolic diseases where there is interference in the way zinc is absorbe from food.
zinc sulphate is used in a completely different condition known as Wilson's disease. This is a genetic disorder where there is a build-up of copper which causes serious symptoms because the body is not able to get rid of it. Treatment with zinc helps to remove the excess copper and/or prevent a further build-up. This is a specialist treatment.
Use under medical supervision.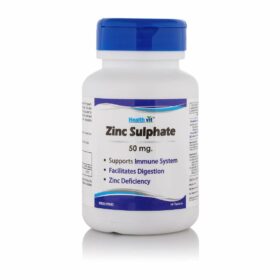 INFORMATION ABOUT ZINC SULFATE
Zinc Sulfate Uses
zinc sulphate is use in the treatment of nutritional deficiencies.
How Zinc Sulfate works
zinc sulphate works by raising zinc levels in your body.
Common side effects of Zinc Sulfate
Abdominal pain, Indigestion, Nausea, Vomiting, Diarrhea, Gastric irritation