Vitamin C Uses
Vitamin C is used in the treatment of nutritional deficiencies.
How works?
Vitamin C is a vitamin that provides essential nutrients.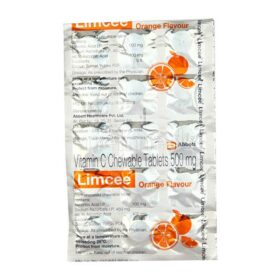 Common side effects of Vitamin C
No common side effects seen
EXPERT ADVICE FOR VITAMIN C
Drink plenty of liquids while you are taking ascorbic acid.
Do not take vitamin C and tell your doctor If you are pregnant or breast-feeding.
Do not take this drug If you are allergic to Vitamin C.
Stop taking the drug and call your doctor at once if you have: joint pain, weakness or tired feeling, weight loss, stomach pain, chills, fever, increased urge to urinate, painful or difficult urination, severe pain in your side or lower back, blood in your urine.
FREQUENTLY ASKED QUESTIONS FOR VITAMIN C
Q. What is Vitamin C?
it consists of a water-soluble vitamin known as vitamin. Vitamin  is also known as L-ascorbic acid or ascorbate. It cannot be stored for long in our body as it is water soluble. Therefore, it should be taken from food like tomatoes and citrus fruits like oranges to maintain sufficient levels of vitamin in the body.
Q. Is Vitamin necessary?
it is used if your diet does not provide enough vitamin. It can also be used to treat certain conditions caused due to low levels of vitamin in the body. However, it would be best to consult your doctor before taking Vitamin to get maximum benefit.
Q. Why is it important to take vitamin in your diet?
Vitamin has many beneficial properties. Vitamin helps in the growth and repair of tissues of bones, cartilage, tendons, skin, hair, muscles and many more. Along with that, it helps in wound healing and also enhances absorption of iron in our body. Excess of free radicals can speed up the ageing process, vitamin due to its rich antioxidant properties help to reduce the harmful effects of these free radicals. Vitamin is very crucial for bone and teeth health. It improves vision and also regulates the blood cholesterol levels. Owing to its numerous benefits, it is very important to take an adequate amount of vitamin in your diet.
Q. Is Vitamin effective?
Vitamin is effective if used in the dose and duration advised by your doctor. Do not stop taking it even if you see improvement in your condition. If you stop using Vitamin too early, the symptoms may return or worsen.
Q. How should Vitamin be take?
Vitamin  should be take in the dose and duration advised by your doctor. It may be taken with or without food preferably at the same time each day to avoid the chances of missing a dose.
Q. What if I forget to take a dose of Vitamin?
If you forget a dose of Vitamin, take it as soon as you remember. However, if it is almost time for your next dose, skip the missed dose and take the next scheduled dose in the prescribed time. Do not double the dose to make up for the missed one as this may increase the chances of developing side effects.
Q. Is Vitamin safe?
Vitamin is safe if used in the dose and duration advised by your doctor. Take it exactly as directed and do not skip any dose. Follow your doctor's instructions carefully and let your doctor know if any of the side effects bother you.
Q. What is vitamin toxicity?
Taking vitamin in excess (more than recommended) can lead to vitamin  toxicity. However, this is not very common. The symptoms of vitamin toxicity are diarrhea, nausea, stomach cramps and indigestion. Do not worry, this type of toxicity is not a very serious condition and can be treat by stopping the intake of vitamin  supplements. If these symptoms bother you or persist for a longer duration, please consult your doctor.
Q. Is Vitamin  good for diabetics?
Yes, Vitamin has been prove to be beneficial for diabetic patients. Vitamin has also shown positive effects on issues caused by poor blood sugar control. However, if you have diabetes, consult your doctor before starting Vitamin.
Q. What are the complications of vitamin deficiency?
Deficiency of vitamin can lead to complications like scurvy (a condition caused by a severe lack of vitamin C in the diet). The symptoms of scurvy include weakness, feeling tired and sore arms and legs. Without treatment, decreased red blood cells, gum disease, changes to hair, and bleeding from the skin may also occur. Additionally, if the deficiency of vitamin does not improve, it can further lead to worsening of other conditions such as high blood pressure, stroke, atherosclerosis, gallstones and even cancer.